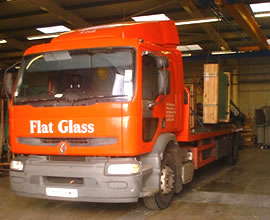 Flatglass Merchants started life in June 2001 working from a small office selling stock mirror, K glass and float glass. Business rapidly grew as the company established partnerships with suppliers and customers alike throughout the UK.
The company then graduated to a 6500 ft2 factory and continued merchanting glass to the trade in general. As the customer base grew so did the product range.
The customer base now extends not only throughout the UK but also includes most of Europe.
In August we moved to a 16000 ft2 factory on the same industrial estate. This is in line with the company's planned growth.
A major investment has been made in a Tamglass HTF 2142 toughening furnace which will be operational November 2003. This means that FGM will offer toughened glass alongside float glass products creating a 'one stop shop' for its customers glass requirements.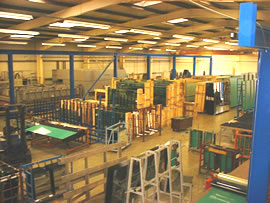 Other processing equipment to complement the furnace includes a Schiatti FPS15 straight line edging machine which can produce high quality edge finishes to glass up to 19mm thick.
Extra delivery vehicles are on order to cope with the deliveries of the toughened glass alongside our Hyab lorry for packs and crates.
We expect to operate initially within a 75 mile radius of the factory to ensure we provide the very best quality, on time, every time!!
For further information please contact Flatglass Merchants sales department on 01536 268419 or email sales@flatglassmerchants.com.