Cutting



The glass orders are optimised with Glasspro software and sent directly to the cutting table for cutting. The operator is given a cutting schedule to cross reference before send for arrissing.

Stock Distribution
Flat Glass Merchants Ltd started trading in June 2001 purely as a Glass Merchant, now we have progressed into a serious player in most areas of the Glass industry.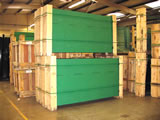 We carry an extensive range of stock Glass from 2mm – 25mm Float, 3,4&6mm Pilkington Opti-Mirror, Tinted, Laminated and the full Pilks Pattern Range.

Safety Backing
As one of Pilkingtons largest users of Opti-Mirror in the UK, we also produce our own safety backed mirror to class A or B, mainly for the glass trade, however we supply some mirror to wardrobe companies in both the UK and Europe.